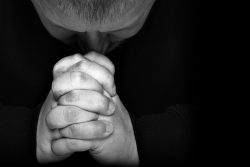 January 9, 2022
Perhaps the greatest thing that could happen in our Church this year is that God's Spirit would move us to become a praying people.  That we would become a people who don't just wrestle in prayer for one another, for our community and our nation.  But that we would become a praying people simply because we love God and want what He wants for us more than anything else in this world.
Now, earlier this year in our Rock Springs Reboot series we dug into a couple of passages on prayer.  One of those was Ephesians 3:14-21, where Paul's prayer focused on how God strengthens us with power through His Spirit in our inner being.  In other words, when God gave you His Holy Spirit He made it possible for you to be strengthened by God's Spirit.  And the way God strengthens us with Power through His Spirit is by His truth: The truth that you've always been loved by God.  The truth that in Jesus, God has made you completely righteous. The truth that in Jesus, you are forgiven and free to become all God created you to be.  The truth that your salvation is secure and guaranteed because you have been marked by the Holy Spirit.  And the truth that you are now and forever His beloved.  These truths are meant to fortify your mind, your inner being, so that you will live out of God's truth, not the world's lies. And when God empowers you by His Spirit in this way, He fortifies your inner being to be a place where Jesus Christ can truly live within you.
We also learned from this passage that God wants our lives to overflow with the love of Christ, praying this, Paul writes: And I pray that you, being rooted and established in love, may have power, together with all the Lord's holy people, to grasp how wide and long and high and deep is the love of Christ, and to know this love that surpasses knowledge—that you may be filled to the measure of all the fullness of God.  Ephesians 3:17b-19  God wants to fill you with the love of Christ that assures you that you will always be His. And fill you with the love of Christ that assures you that He'll never give up on you. And fill you with the love of Christ that gives you the hope of  eternity. And fill you with the love of Christ that reaches down to the depths of your brokenness and assures you that He will redeems everything about you.  And God wants to fill us with His infinite and incredible love so that He might do through us immeasurably more than all we ask or imagine, according to His power that is at work within us.
It is the power of His truth and His love that Jesus was speaking of when He told His disciples in Acts 1:8 "But you will receive power when the Holy Spirit comes on you; and you will be my witnesses in Jerusalem, and in all Judea and Samaria, and to the ends of the earth." These were Jesus' final words to His disciples.  So, after Jesus' ascended to heaven, these disciples gathered and waited for the power Jesus promised.  And while they waited, they prayed.  And after 10 days of waiting in prayer, God poured out His Spirit, the Church was born, and Jesus' followers became His witnesses in Jerusalem, in Judea and Samaria and to the ends of the world.
What I love about this account from Acts 1 and the prayer of Paul in Ephesians 3, is the connection between prayer and power God gives us be Christ's witnesses.  Now we don't need to wait on God in prayer today for Him to SEND the Holy Spirit to empower us.  For the moment you trust in Jesus, God's Word tells us that God gives us the Holy Spirit who takes up residence in you. So If you are a believer in Jesus Christ, God's Spirit lives in you today.
However, what we see from Acts 1:8 and Ephesians 3, is that prayer plays a key role in empowering us to be His witnesses.  So, this morning, I want to take us back to the heart of what praying is all about.  But to do so I want us to start where Jesus started when He taught His disciples to pray. And where He started teaching them how to pray was not with The Lord's Prayer.  Instead, he began by teaching them How Not to Pray.
Now you may not be aware of this, but most people get it wrong when it comes to praying.   So, if Jesus need to warn His disciples about getting it wrong when it comes to prayer – then maybe this is where we should begin as well. So, if you brought your Bible today, let me encourage you to find Matthew 6:5-8, where in teaching us how not to pray, Jesus shows us what God is looking for from our prayers.
So what's the first thing Jesus says about how not to pray.  Well, it's this: Don't Try to Use God: He says, "And when you pray, do not be like the hypocrites, for they love to pray standing in the synagogues and on the street corners to be seen by others. Truly I tell you, they have received their reward in full." Matthew 5:5
Specifically, Jesus calls out the tendency of religious leaders to use prayer as a self-centered means to an end.  They used praying to make themselves look good in the eyes of others.  You see, in first-century Jewish culture, religiosity meant respect: the more religious you were, the more respect you gained.  So, the guys in Jesus' sights were very clever on how they positioned themselves to pray. They would stand and pray aloud in synagogues because that's where the people who will be most impressed by their praying would gather.  And they'd stand on street corners too.  Why the corners?  Because that's were two streets meet, and so twice as many people could see and be impressed.  So, prayer for this type of religious person is a means to an end – by gaining status with other people, was simply using God – praying to get something from Him.
God is no more a fan of being used as a means to an end than we are.  Notice that Jesus says this kind of prayer gets literally nothing from God; the only "reward" for this kind of praying is the extra respect of a few people who don't matter anyway.
So, in this passage, Jesus is specifically warning against using prayer as a way to gain respect from others, but we can broaden the application of this principle to any number of things.  Anytime we are more interested in what we can get from God than we are in God Himself, Jesus calls us a hypocrite.
Now, I don't know about you, but this really challenges me.  Every Saturday and Sunday, I pray for God's anointing over the message I've been preparing.  I pray that God will use me to communicate the truths He wants communicated.  I pray that His Spirit would help me encourage you.  I pray that God would build His church and draw people to faith in Jesus.  Why?  Because I want to see God work.  I want to see God's people thrive.  I want to see God glorified in His church.  But I have to ask myself – do I want all these things to make me look good, to show that I'm a good pastor, or do I really want more of God in our church?
Obviously, it is not a bad thing to pray before I preach.  But my point is that every single one of us is susceptible to this.  Maybe you find yourself praying before big decisions. "God please just show me your will."  Now, that sounds spiritual, but it could be possible that you're more concerned with God's will than with God Himself.  Or maybe you find yourself praying for our country, not because you want more of God, but because you want life to be the way it used to be.  Or maybe you pray for your wife's health, or your children's job security, or your wobbly finances.  Again, these are not bad things to pray for, but if they're ALL you are praying for, then maybe your prayer life is more focused on getting something from God rather than getting more of God.
So, we have to ask ourselves:  When I pray, do I want more of God or do I want more from God?  Do I spend more time with God because I have to or because I get to?  Is my prayer life a means to an end, or is a relationship with God an end in itself?
So, here's the thing.  Jesus is speaking to the heart of our motives in prayer. And He drives this point home by giving us The Acid Test  He asks us: Do You Pray in Secret?  "But when you pray, go into your room, close the door and pray to your Father, who is unseen. Then your Father, who sees what is done in secret, will reward you." Matt 5:6
You see, the way to know your real motivation in prayer is to ask how much you pray when no one is watching – when you have nothing to gain from praying but greater fellowship with God. When what drives you to pray is mainly a desire to be close to God.
I have to confess, Jesus' acid test, has convicted me.  I don't want to be a person who uses God.  I don't want to be a person who treats God like a cosmic vending machine. I don't want the stresses of this world, the burdens of this church, or the desires of my pride to come between me and my relationship with the Father.  No, I want my prayer life to be what Jesus' describes here: to be a relationship with the Father who loves me.
That's what I believe Jesus is teaching us about prayer today.  That we pray not because we want something from God, but simply because we want more of God. God wants you, not your efforts.  God doesn't want you to see prayer as a button to be pushed, but a relationship to be pursued.  And the only motivation that will lead us to pray this way – to pray in secret, is to grow in our love for God.
Understanding this will change your whole concept about praying. It's changing mine. Prayer is no longer about "what can I get from God" but how can I get more of God.
Stop Trying to Use God.  Now, that's a challenge for us.  But it comes straight from Jesus.  That's the first way we can go wrong in prayer.
Here now is the second way we can go wrong in prayer:  Don't Try to Impress God:  Next Jesus says, "And when you pray, do not keep on babbling like pagans, for they think they will be heard because of their many words.  Do not be like them, for your Father knows what you need before you ask Him." Matthew 5:7-8
Let me start by focusing on this term "babbling." It means praying with intensity and repetition – but not much meaning.  So, if you think you need to pray until you earn God's attention, but using many words, or the repetition of phrases, or just repeating yourself over and over again to show God how earnest you are or how dedicated you are, then you are praying in such a way as to impress God.  And the motive behind that is that God will see how hard you are trying and then look favorably on you and answer your prayer.  This is simply a way to manipulate God's favor.  As if we have the power to make Him answer us by how long and hard we pray.
I recently read a story about a missionary who lived for a while among Muslims in Southeast Asia.  Once he was invited to go to a home to be part of prayer service asking for blessing on a house that had just gone through a tragedy.  He says, "As we sat down in this house together, the Muslim leaders began chanting verses from the Quran, over and over again."  "I sat patiently, waiting for it to end, but after an hour it dawned on me that this might not end any time soon.  Over the course of that first hour, I had prayed in every way I could think of for this family as they delt with this tragedy. Finally, I turned to the guy sitting next to me and quietly asked, "How long does this go on?" His answer, "Oh, I don't know – six or seven hours."  They assumed that to earn God's favor many words need to be spoken. But Jesus says, "Don't be like them."  "Stop trying to impress God with how you pray."
Praying to impress God comes from a faulty understanding of the gospel. Religious people think that in order for God to hear their prayers, they have to do something to gain his attention.  So, they focus on long prayers, loud prayers, or prayers uttered in just the right environment with the right phrases and the right sacrifices, as if God keeps a little account for you and will only answer your prayer when you get up to a certain amount.
But that way of thinking assumes that God is basically hostile toward us and therefore only if we say the right things in the right way, at the right volume and intensity, will He be impressed enough with us to be favorably inclined toward us.  Praying like this is about earning enough favor with God for Him to like us and help us.  So, Jesus says,
"Do not be like them, for your Father knows what you need before you ask Him."
In other words, pray to your Father who loves you, who is ready to receive you and already knows what you need.   This is why the first Word in Jesus' model prayer for us is so revolutionary: "Father."
No other religion had ever or has ever taught that.  For His children, God is not a judge that we need to placate, but a Father who knows what we need and cares deeply for us.  We don't need to impress Him.  We don't need to persuade Him.  We don't need to use the best phrases.  We just need to talk to him as our Papa.
Every other religion finds this bizarre, if not outright disrespectful.  Some think it to be irreverent.  But that's kinda the point.  It is so intimate that it does seem irreverent.  And it would be, had God not offered this relationship to us Himself.  We would never have the confidence to pray like this had Christ not opened the way for us by removing our sin and giving to us His righteousness.
So then, if you understand the gospel, you won't pray to impress God.  Jesus Christ has already impressed God in your place.  You couldn't add anything to Christ's finished work if you wanted to, and the good news is you don't need to.  God already knows all about you.  There's nothing that could be revealed about you that was not already paid for by Jesus.  Therefore, in Christ, there is nothing you could do that would make God love you more, and there's nothing you've done that will make him love you less.
So what Jesus is teaching us about prayer is this:  God doesn't need you to impress Him, He just needs you to want Him.  And this changes everything about our prayers.  Because it's this attitude of your heart that declares your humble dependence on Him.
And when are come to our loving Father in humble dependence, then God will give us what we need.   When it comes to prayer, God wants your trust, not your efforts.
So then, this is where prayer begins.  It begins with you coming to the Father who loves you, who knows you, and knows wants you to be with Him.  It begins with you no longer needing to manipulate Him or impress Him, but to simply trust Him to give you what you need.
And if we can become a people like that, His children who humbly depend on Him, then I God will give us the power we need to be His witnesses in our world.  For this is His will and this is what will bring Him glory.
Would you pray me:
"'Our Father in heaven, Hallowed be Your name, May Your kingdom come, May Your will be done, on earth as it is in heaven. Give us today our daily bread. And forgive us our debts, as we also have forgiven our debtors. And lead us not into temptation, but deliver us from the evil one.' For Yours is the Kingdom and Power And the Glory, Forever, Amen"